Remember http://jonathanmurray.com/greymatter/archives/00000799.htm Joshua Sparling?
It looks like his recovery is progressing nicely – and the nasty little Christmas card incident is well behind him. I received this update via email today (thanks, Tony in Boulder!)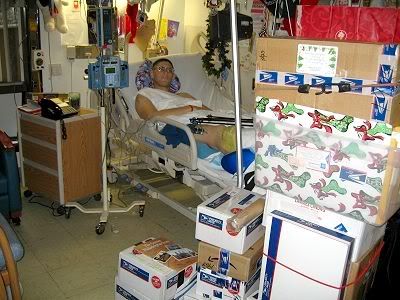 A week ago Joshua underwent his 19th surgery where a halo device was attached to his leg to stablize it and give him some mobility. The doctors at Walter Reed are now 90% sure that his leg will be saved and Joshua sounded really upbeat about that news. He took his first steps since this injury, walking (hopping) 12 feet to the door and 10 feet back to the chair to sit down. He will be on crutches for about one year from today.

Joshua also was very thankful to everyone who has sent him cards, gifts and wishes of a speedy recovery. He is giving 99% of all gifts and cards to other recovering soldiers.